50 years. They pass very quickly. Since 1969 the Sa Xarxa winery has not changed much. It conserves the air of the old fishermen's taverns of the Costa Brava, the wood, the fireplace, and the memory of the friendly and always friendly treatment of Joan Sala and Lluïsa Baltrons. He, a strong, strong man, who united in fishing and painting and writing his love for Lloret de Mar. She, Lluïsa, always knew how to convey the kind and sincere treatment to all their customers and friends. With the arrival of tourism nothing changed.
And since in 1983 Rosa María, the daughter of Juan and Lluïsa, and her husband, Salvador, took over the business, they have managed to maintain this charm until today. There are links of friendship with the customers of the Bodega Sa Xarxa that are kept alive for years and years. Whether they are clients from here as tourists.
During these 50 years we have evolved just enough to not lose the identity. But enough for our friends-clients to find a menu of food with high quality products, an excellent wine list, an extensive list of craft beer and international beers. All married with a 100% seafood terrace where you can enjoy the good atmosphere of the winery. I will also find photographs, many photographs of clients and friends … some of these photographs have … 50 years.
SPECIALTIES OF THE BODEGA SA XARXA
There is no good food without a good selection
At Bodega Sa Xarxa we take very seriously the selection of the best products, from the best producers. No product of our letter is left to chance.
Food Charter
At the Sa Xarxa winery you will find tapas, select charcuterie dishes to accompany with a good bread with tomato baked by ourselves, as well as a proposal of montaditos and specialties of the house. The queen of the house, which you can not miss, is the special anchovy of Sa Xarxa. Try it!
It's a question of appellation of origin
Our white wine list has 6 appellations of origin of Catalonia, and 4 DO of the rest of the state. Pink wines, we have 5 DO, and red wines, 9 Catalan DO and 4 from the rest of the state.
We take care of the Catalan DO, and we make them known to tourists. Costers del Segre, Empordà, Penedès, Alella, Montsant, Pla de Bages, Priorat and Terra Alta.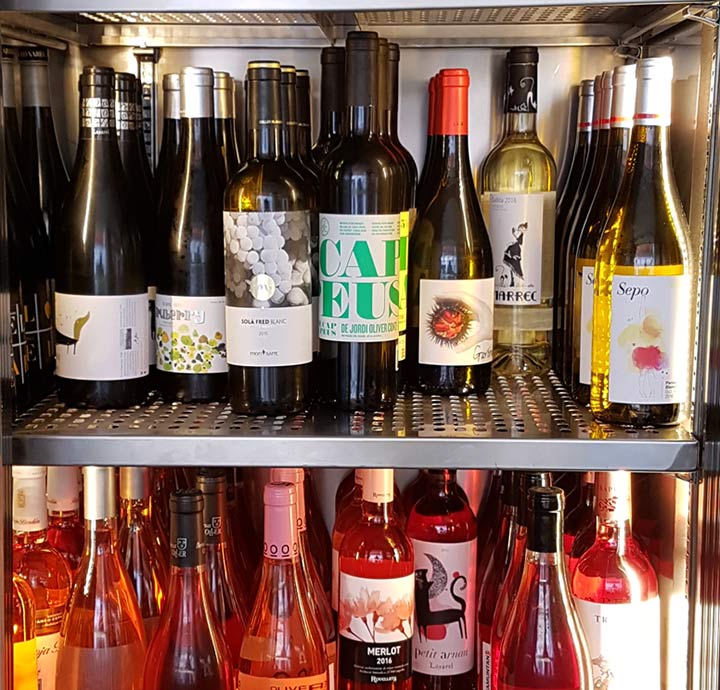 More than 80 references of craft beer
At Bodega Sa Xarxa we have made a bet for craft beer. We have a space prepared to take care of these jewels in the form of beer, which small and medium-sized local, regional and national producers make with so much love.
This 2019, on our 50th anniversary, we have made our own beer. Do you want to try it? come!
In the Bodega, boot wine
Generous wines, cocktails, sangria with a secret recipe, and an assortment of liqueurs, marc and creams.
OPINIONS OF CLIENTS OF SA XARXA
Each client is a world … but there are many who agree on one thing …
Order an assortment of Iberian sausagesand we will give 1 eurofor the research and activities of the Foundation for Multiple Sclerosis In a year as special as our 50th anniversary, we wanted to participate in a worthwhile initiative. Along with...
Bodega Sa Xarxa
Sènia del Barral, 14
17310 Lloret de Mar, Girona
Costa Brava
Tel. 972 36 41 15 | info@bodegasaxarxa.com